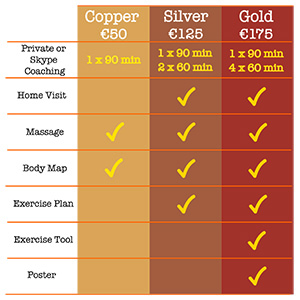 Private or Skype Coaching; Private coaching is 1 on 1 coaching while actually meeting. Skype coaching can be a full coachings through Skype or a follow–up coachings through Skype as an addition to the private coaching.
Home Visit; When a coach and a client are staying in the same city or town a home visit is sometimes a recommended option. Getting tailor made que's with all of existing tools that are already owned by the client.
Massage; Deep massage work is used to detect tentions and for learning how to apply pressure on yourself. The client will learn exercises to copy the applied pressure of the massage.
Exercise Plan; A written exercise plan as a PDF-file. See example.

Exercise Tool; A tool you can use as an obstacle for doing 1 or more of your tailor-made exercises. The tool is subject to private meeting sessions & location.
Poster; A screen saver from people's 5 most favorite exercises.